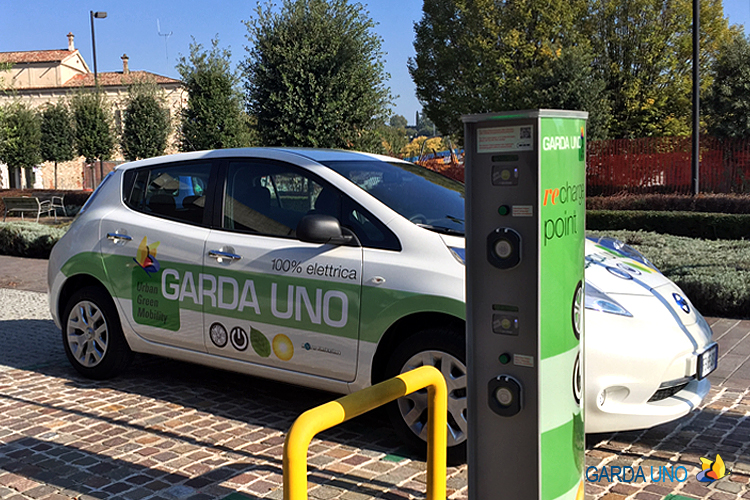 TARIFFS [€/h]
|   |   |   | CAR | CAR | Motorcycle | Motorcycle |
| --- | --- | --- | --- | --- | --- | --- |
| MUNICIPALITY | STATION | ADDRESS | Recharge | Stop | Recharge | Stop |
| Calcinato | Calcinato | Via O. Fallaci | € 1,50 | € 1,50 | € 0,75 | € 0,75 |
| Desenzano | Desenzanino | Via B. Vighenzi | € 1,50 | € 2,50 | € 0,75 | € 1,25 |
| Desenzano | Rivoltella | Via Agello | € 1,50 | € 1,50 | € 0,75 | € 0,75 |
| Gardone Riviera | Gardone Riviera | Via Roma | € 1,50 | € 1,50 | € 0,75 | € 0,75 |
| Gargnano | Gargnano | Via Rimembranza | € 1,50 | € 2,50 | € 0,75 | € 1,25 |
| Leno | Leno | Via D. Alighieri | € 1,50 | € 1,50 | € 0,75 | € 0,75 |
| Limone | Limone | Parking Lungolago | € 1,50 | € 2,50 | € 0,75 | € 1,25 |
| Lonato d/G | Lonato d/G | Via C. Battisti | € 1,50 | € 1,50 | € 0,75 | € 0,75 |
| Padenghe s/G | Sede Garda Uno | Via I. Barbieri | € 1,50 | € 1,50 | € 0,75 | € 0,75 |
| Polpenazze d/G | Polpenazze d/G | Via Zanardelli | € 1,50 | € 1,50 | € 0,75 | € 0,75 |
| Salò | Salò | Piazzale Zambarda | € 1,50 | € 1,50 | € 0,75 | € 0,75 |
| Sirmione | Sirmione | Via XX Settembre | € 1,50 | € 1,50 | € 0,75 | € 0,75 |
| Tignale | Tignale | Via Roma | € 1,50 | € 1,50 | € 0,75 | € 0,75 |
| Verolanuova | Verolanuova | Via G. Rovetta | € 1,50 | € 1,50 | € 0,75 | € 0,75 |
Each user at the end of the charging period is warned through a text message and has 30 minutes, during which the minimum tariff is applied, to remove the vehicle. If the vehicle is not removed on time, the system will start to count the higher tariff referred to "Only parking".
MOBILITY CARD ACTIVATION
The Mobility Card, needed in order to use Garda Uno's electric charging columns, can be activated in two different ways:
at  the "helpdesk for users" at Padenghe, via Italo Barbieri 20
– from 8.30 to 12.30 from Monday to Friday– opening hours to the public
– at different hours from Monday to Friday– on appointment calling the Number 800 133 966, active from 8.30 to 17.00 from Monday to Friday
sending the Mobility Card Request Module, downloadable from the website and completely filled in, to the email address: energia@gardauno.it.
Click on the following link to download the Mobility Card Request Module
Anmeldeformular Mobility Card (deutsch) 
For shipments in Italy the payment of 25 € (15 € for the card, 10 € for the shipment) will be performed by payment at delivery.
For shipments abroad the payment of 25 € (15 € for the card, 10 € for the shipment) will be performed with advanced bank payment.
The instructions for the payment through advanced bank payment will be sent by a reply email after having received the filled in form.
The Mobility Card activation cost amounts to 15,00 € (for shipments an overprice of 10,00 € will be computed as shipment costs) and it last is 5 years, after which a renewal request is necessary.
The modalities  of card recharging are located inside the manual.
For further info it is possible to contact the green number 800.133.966.
For the card recharge a minimum credit of 5,00 € is needed.
Visit the website www.gardaunomobility.it using a tablet or a smart phone. It's possible to manage the recharging without a card or a season/annual pass using the "temporary user" modality.  The online payment is available using a credit card.
Download the Garda Uno Green Urban Mobility Brochure.