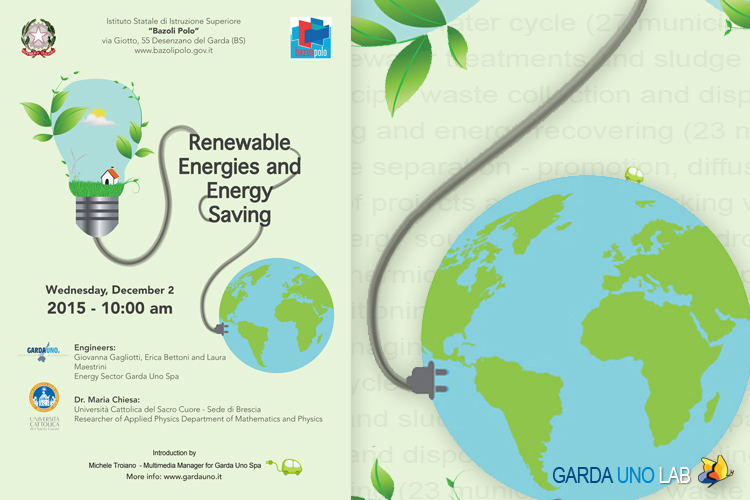 Renewable Energies and Energy Saving, an english speaking workshop organized by Garda Uno Spa in collaboration with the Istituto Bazoli Polo and with the participation of Dr. Maria Chiesa of the Università Cattolica del Sacro Cuore, Sede di Brescia.
Wednesday 2 December 2015 – 10:00 am
Istituto "Bazoli Polo"
Via Giotto 55 – 25015 Desenzano del Garda (BS)
The Workshop's Introduction by Michele Troiano:
Garda Uno SpA was born as a consorzio in 1974 in order to provide an ecological protection to the Lake of Garda. Today it is an S.p.A. multiutility with entirely public economic capital able to offer planning, realization and management of integrated environmental systems.
Partners (associated concerns) of Garda Uno are Municipalities of Garda Lake (Brescia's side), Provincia di Brescia and Comunità Montana Parco Alto Garda Bresciano, a territory of 800 km2, 280 thousand inhabitants e 6 mln tourists every year.
Garda Uno manages as objects clause, for its own or for third parties, directly or though controlled/associated concerns, the following activities, mainly:
integrated water cycle (27 municipalities)
wastewater treatments and sludge digestion
municipal waste collection and disposal also with recycling and energy recovering (23 municipalities)
waste separation
promotion, diffusion and realization of projects and plants working with renewable
energy sources (PV plants, hydroelectric plants, geothermic plants etc.) (20 municipalities)
conditioning and heating plants, also operating and managing boilers
public lightning
Since 2007 Garda Uno has gained a considerable experience in the field of renewable energy sources, also through agreements with Municipalities, farmers association (Coldiretti), etc.
RENEWABLE ENERGIES AND ENERGY SAVING
Engineers:
Giovanna Gagliotti, Erica Bettoni and Laura Maestrini
Energy Sector Garda Uno Spa
Dr. Maria Chiesa:
Università Cattolica del Sacro Cuore – Sede di Brescia
Researcher of Applied Physics
Department of Mathematics and Physics
Michele Troiano
Multimedia Manager for Garda Uno Spa
Links: bazolipolo.gov.it – brescia.unicatt.it
Flyers by: Elisa Lucignano and Christian Caldera
4h Graphic and Communication – Istituto Bazoli Polo, Desenzano (BS)
Teacher: Enrica Gostoli