TEMPORARY USER
Each owner of an electric car, not in possession of a Mobility Card, can access the service by purchasing a single charge in the Temporary User section of the website www.gardaunomobility.it.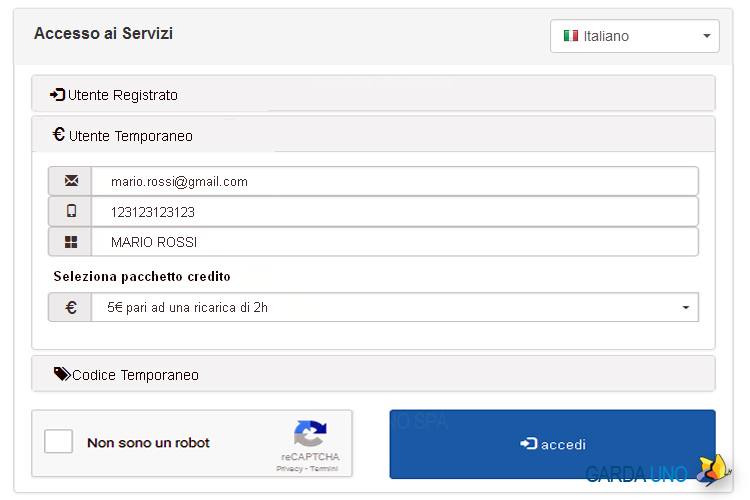 You can choose from:
5,00 € for 2 hours of recharge;
10,00 € for 5 hours of recharge;
15,00 € for 10 hours of recharge.
The code generated by the recharge purchase can be used within 48 hours.
It's worth noting that the code is valid for one connection only; in the event of using a lower recharging time the credit will be completely cancelled anyway.
---
HOW IT WORKS
access the web page

Temporary User

(Pic.1);
enter data (e-mail, telephone number and Name Surname/Business Name), choose the type of charge and click 'login' (Pic.2);
enter your credit card data (Pic.3);
wait for the message of charge success (Pic.4);
wait until the system return to the main page of gardaunomobility (Pic.5);
check your inbox and open the e-mail from noreply@gardaunomobility.it;
click on the link of the Temporary Token, valid 48hs (Pic.6);
the Temporary Token is automatically inserted in the page 'gardaunomobility', click the Login button to proceed (Pic.7);
select a charging station on the map (Pic.8);
choose the socket;
press the blue button (Pic.9);
wait until the release of the plug and put the connector;
press the red button to stop the electic charging and release the connector (Pic.10).